This weekend I was in Philadelphia at the "Bestseller Blueprint" conference with my client Kaneisha Grayson.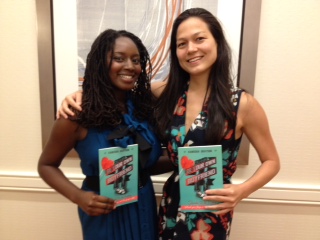 Kaneisha is the author of Be Your Own Boyfriend (to be released on Valentines Day 2013).
The book is about how to find personal happiness, live a more "orgasmic" life, and pursue your passions.
Since Kaneisha is based in Austin, Texas, we communicate mostly over Skype video. It was so much fun to finally meet in person and spend the entire weekend together.
During the conference, we came up with several pages of creative ideas to promote Be Your Own Boyfriend (BYOB).
Here are three distribution ideas that we are really excited about:
College Sororities

Turn BYOB into a "fundraiser in a box." Sell the book in bulk to college sororities for $7 per piece and throw in cute heart-shaped lollipops (like the ones on the book cover above).
Sororities can sell these on campus for $20 a piece (earning them a $13 profit) and then donate the funds to a local women's charity.
It's a win for us, a win for the sororities, and a win for local nonprofits.

Hair Salons

Hair salons across the country are struggling (as evidenced by how many participate in Groupon-type deals).
They make the most money through retail products (i.e. shampoo, conditioner), not the actual haircuts.
Have BYOB on display at the front counter and use it as a sales incentive for clients who purchase $50 or more of haircare products.

Passion Parties

Known as the "ultimate girls' night in," Passion Party hostesses make money by throwing fun parties and selling sensual products.
We can create customized BYOB books with the Passion Party logo on it for hostesses across the country to use as a sales incentive.
The moral of the story — it's important to promote your products and services in places you'd least expect to find them.
For example, if Kaneisha were only promoting her book in traditional bookstores, she would be competing against tens of thousands of books. The competition would be fierce.
By having other people promote her book at no cost (and helping these people grow their profits in creative ways), Kaneisha grows her audience, reach, and sales.
What about for your business? Where could you be promoting yourself that you are not already?
Let's say you are a business coach. The absolute worst place to promote yourself would be in an online directory of coaches. You're being listed side-by-side a hundred other coaches (which makes you look like a commodity) and it's hard to stand out.
You want to go where your ideal clients are (but not those in your field).
For example, a great place for a business coach (or any coach for that matter) to find new clients is Summit Series.
Summit Series is an invitation-only event that attracts a hip crowd of business leaders — think Tony Hsieh (Zappos), Lauren Bush (FEED), and the CEOs of the coolest tech start-ups.
It requires some work to get an invite, but if you've spent the time to build a premium brand for yourself and a strong network of influencers, it's not as hard as you might think.
So back to you — where are you currently promoting your business? What has worked and what hasn't?
If you liked this post, or have an idea to share, please let me know in the comments section of the blog.
Thank you!
Selena